Hulpstukken en toebehoren
Leidingbuizen voor het transport van drinkwater, bedrijfswater en afvalwater
Bescherming van binnen en buiten
We check from inside out.
De fittingen hebben standaard een Portland cement mortelbekleding aan de binnenzijde. De eindafwerking moet worden gekozen overeenkomstig EN 10298, bijlage A. De voering moet manueel worden uitgevoerd volgens tabel 1-3 (EN 10298).
De uitwendige corrosiebescherming op fittingen met stompe lasverbindingen of op moffverbindingen kan na het lassen worden aangevuld met corrosiebeschermende verbanden van polyethyleen. Stalen fittingen kunnen ook in een gewikkelde uitvoering worden geleverd. De coating wordt aangebracht in een PE-poederbad als een éénlagig systeem. De coating wordt met polyethyleenpoeder rechtstreeks op een gezandstraald oppervlak aangebracht (SA 2.5).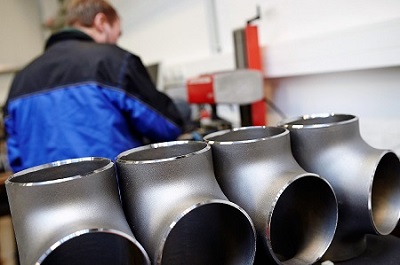 Versie
De fittingen zijn voorbereid voor lasverbindingen (eindontwerp volgens EN ISO 9692-1 afschuining en 1,6 (±0,8) mm holtehoogte) of voor indrukmofverbindingen (E-socket) volgens DIN 2460. Ze worden gemaakt van naadloze stalen buis volgens EN 10216 of in de lengterichting gelaste stalen buis volgens EN 10217 alsmede EN 10224. Voor hulpstukken gelden de standaard leveringsvoorwaarden van norm EN 10253-1/2.
Dimensionale specificaties
| | | |
| --- | --- | --- |
| Type | Technische leveringsvoorwaarden | Versies |
| Boog | EN 10253-1/2 | Inwendig met cementmortel bekleding |
| T-stuk | EN 10253-1/2 | Inwendig met cementmortel bekleding |
| Reductie | EN 10253-1/2 | Inwendig met cementmortel bekleding |
Verdere uitvoeringen van de hulpstuktypes op aanvraag.
Toebehoren voor de installatie
We zien onszelf als een systeemleverancier. Dit betekent dat wij niet alleen onze buizen op de bouwplaats afleveren, maar ook alle materialen die nodig zijn voor het leggen van de buizen. Ons productengamma omvat secundaire bekledingsmaterialen, alsook uitrusting en hulpmiddelen voor het leggen, bv.
Gietmortel
Afdichtingsmaterialen (E-bus)
Haakse slijper met snijhulpstuk voor het afwerken van de uiteinden van de cementmortelbekleding
Schuifafsluiters, kleppen en appendages