Leidingbuizen voor het transport van drinkwater, bedrijfswater en afvalwater
Mannesmann Leidingbuizen kunnen op verschillende manieren worden gelegd. Afhankelijk van het gekozen procédé worden geschikte materialen en coatings gebruikt voor onze buizen, die de vereiste breukvastheid en afschuifsterkte hebben.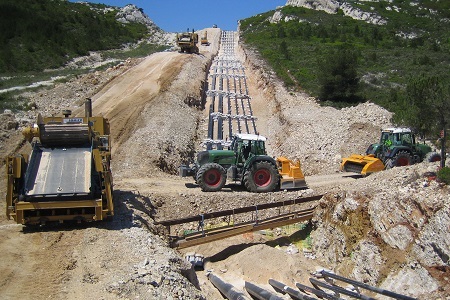 Leggen in de open pijpsleuf
Het leggen van pijpleidingen in open sleuven is de meest gebruikelijke methode voor het leggen van pijpleidingen, aangezien deze geschikt is voor alle pijpdiameters.
Bij deze methode wordt een sleufbodem uitgegraven langs het gespecificeerde pijpleidingtracé. Indien de grond niet geschikt is om de buizen te dragen, wordt de sleuf dieper gegraven en wordt een geschikt beddingsmateriaal aangebracht. De stalen buizen kunnen dan in de sleuf worden gelegd als een voorgelaste streng.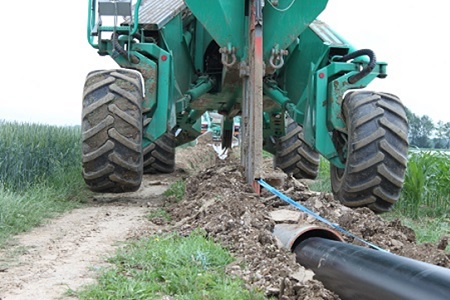 De ploegmethode is een bijzonder milieuvriendelijke methode die kan worden toegepast tot een diameter van DN 600, afhankelijk van de bodem, de lengte en de kracht van het ploegen.
Hierbij trekt een trekker een legploeg door de grond met behulp van een kabellier. Het ploegblad wordt aanvankelijk uitgelijnd met de leghoogte en ploegt een holte vrij. De pijpleiding wordt door deze holle ruimte getrokken, waarbij de verplaatste aardmassa's weer over de pijpleiding worden gelegd terwijl deze naar binnen wordt getrokken. Enerzijds is het proces daardoor bijzonder snel, anderzijds blijft de impact op het landschap minimaal.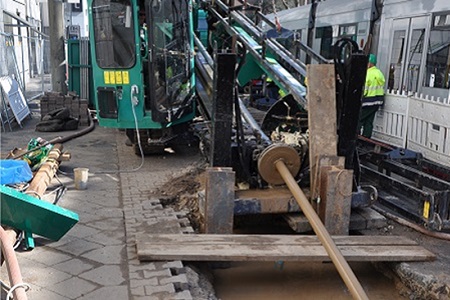 De spoelboormethode wordt gebruikt bij de aanleg van sleufloze pijpleidingen en is onder meer geschikt voor het leggen van leidingen in dichtbebouwde stedelijke gebieden of voor het kruisen onder watermassa's of kunstwerken. De gecontroleerde proefboring wordt uitgevoerd langs een twee- of driedimensionaal gebogen doelboorlijn tussen het ingangspunt (vóór de boorinstallatie) en een uitgangspunt aan de andere kant van het te overschrijden obstakel. Het losmaken van de grond ter plaatse gebeurt door een boorkop die zich aan het voorste uiteinde van het boorkoord bevindt. De tweede werkstap bij de uitvoering van de gecontroleerde horizontale boring is het verbreden van het proefgat. De laatste stap is het trekken van de pijpkoord vanaf de uitgangszijde in het afgewerkte verbrede boorgat.